About Us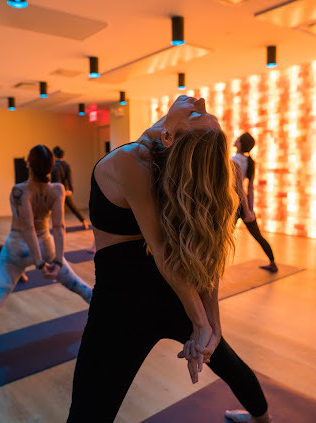 Celebrating Uniqueness, Together
Nestled in the heart of New York City's vibrant SoHo, Sui Yoga is more than a hot yoga studio—it's a space for conscious connection. Our name comes from the Latin sui generis, meaning unique, of its own kind. Sui in Japanese refers to the water element. In each of our offerings, we are committed to nurturing the unique potential of the individual while simultaneously fostering the expansion and joy that community brings.
Flooded with natural light and teeming with plants, our 6,000 square foot, bi-level space is a serene oasis. Our two spacious studios feature healing, restorative Himalayan salt walls and artfully-curated lighting systems. Our state-of-the-art locker rooms are outfitted with 12 showers, stocked with clean, all-natural bath products. Our café offers healthy bites and beverage options to help nourish and fuel you throughout your day.
Our interiors are curated with the utmost care and attention to detail, adhering to the principles of biophilic design—a concept that celebrates the symbiotic relationship between humanity and the natural world, encouraging a deeper connection with nature that strengthens our intuition, restores our natural rhythms, and promotes tranquility.
We invite you to slow down, nourish your soul, and activate your higher consciousness. Come visit us today.
---
We Grow
Open yourself to the constant opportunities to learn something
new. To live and to grow is to thrive.
We are Healthy
Connect to your intuition, ask yourself what is best for you, and find your inner balance.
we are sustainable
Learn to make greener
choices with every day
changes. For us to stay
safe and wholly present,
we must protect our
environment.
WE ARE COMMUNITY
To live in greater peace, we
must give back, build
strong connections, &
listen.
WE ARE PEACE
When we strive for inner
peace, more love is free to
give and receive.
---
Our Founders' Mission
We believe in the profound impact yoga can have on the individual and on the wider community; inspiring a positive transformation that goes far beyond the mat. At Sui Yoga, we aim to share that impact. Holding environment and community in the highest esteem; we strive to create a safe and sustainable studio environment that welcomes all while supporting and nourishing the planet. We invite you to slow down and explore your infinitely unique potential.
—Julie and Sven
JULIE
VILLA
Julie has always been fascinated by movement and the physical form. She's a classically trained ballerina and an alumni of the National Ecuadorian Ballet Company. After moving to New York City Julie continued her studies with the Alvin Ailey and Paul Taylor dance companies. After an injury ended her career as a ballerina, Julie began practice yoga as part of her physical rehabilitation; helping her rediscover a fierce connections with herself and others.The Modo Yoga Teacher Training program in British Columbia further ignited and deepened her passion for yoga in 2017. Julie has become very passionate about helping others nurture their unique potential through the healing and transformative powers of yoga. A sense of community is at the heart of of these continued ambitions in healing both herself and others.
Sven
Schneider
A competitive swimmer for 15 years, Sven represented his home country of Estonia at the 2003 World Championships in Barcelona and the 2009 World University games in Belgrade. A member of the NCAA Division 1 swim teams at Louisiana State University and The University of Maryland Baltimore County; he played a key role in leading UMBC to win two Conference Championship titles in 2008 and 2009. When Sven was introduced to yoga he found a workout routine that simultaneously helped him build strength, increase focus, restore balance, recover from injury, and quiet his active mind. He has since dedicated himself to sharing those benefits with a wider community and bringing other reluctant newcomers to yoga.